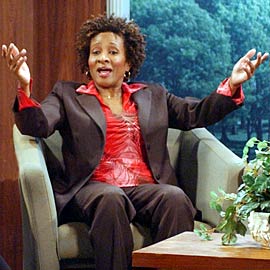 I've written before about the struggle for comedians to find a funny trope to rely on when sending up President Obama. So far, the winner seems to be that he's just awesome — perhaps too awesome, and perhaps too aware of his own awesomeness. As Vinca pointed out, even Joe Biden advanced the legend that the president has an inflated opinion of himself when he delivered a speech at this year's Gridiron Dinner.
Soon the task of zinging President Obama will fall to Wanda Sykes, who was chosen as the featured performer at the White House Correspondents Association dinner next month. People in Washington salivate over this speech because it's a chance to hear someone point out the president's quirks, foibles, and gaffes — while he sits a few feet away.
Today, the Wall Street Journal's Amy Chozick takes a look at Sykes, her brand of humor, and the challenges of taking on this particular president.
Race hovers like a wet blanket ready to be thrown over any sparks of off-color humor about President Obama. In that respect, handing the responsibility for jokes to Sykes, a black woman who's never afraid to openly talk about race, was smart. Plus, she's pretty damn funny, so it should be a good show.
Fortunately the president seems to have a healthy sense of humor about himself. If he laughs, the rest of Washington will laugh with him.